G-EXE22 - Walk-Behind Greens Mower -
Overview
Description of Products
Features
Specifications
G-EXE22
Walk-Behind Greens Mower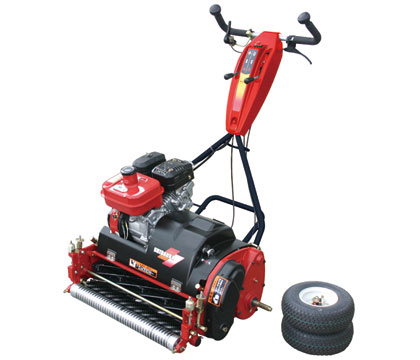 Description of G-EXE22
The next frontier in world tournament standards.
Highest cutting quality with 4-stage adjustment ensures the shortest cutting frequency of 3.5mm.
Adjustable speed (low/high), and pulley (small/large) provides 4 stages of cutting frequency (3.5mm, 4.5mm, 5.1mm, 6.5mm).
Lightest weight (78kg) in its class.
The combined features of GM222/GM262 and G22/G26 ensure the highest quality cut in any conditions.
Feature
The world's first Offset Moving System for a wide variety of turf situations: adjustable clearance between bedknife and reel (offset) by changing the bedknife angles.
Easy adjustment of frequency by simply switching the pulley (Small/Large).
Newly developed transmission for easy switching between High and Low.
4.5 horsepower high-powered engine.
Turf grooming for smooth operation with a fine finish.
U-Shaped handle for easy operation and handling with integrated controller.
Shortest frequency of cut to follow wide variety of undulations in the ground without damaging the green.
Quick and easy attachment/detachment of replacement parts for simple maintenance.
Specifications
Model
G-EXE22
G-EXE26
Dimensions
Length (mm)
1100
Width (mm)
970
1055
Height (mm)
1050
Weight (kg)
78(AC・AD 82)
83(AC・AD 87)
Engine
Type
Robin EX13D Air-cooled 4 cycle OHC gasoline engine
Displacement [cm3 (cc)]
126
Horsepower [kW (PS) / rpm]
3.2 (4.5) / 4000
Fuel Capacity (L)
2.7
Spark Plug
BPR2HS
Capacity
Mowing Speed (km/h)
4.3 / 5.5(3000rpm)
Width-of-Cut (mm)
557
643.5
Capacity (m2/h)
2100~3400
2650~3950
Height-of-Cut (mm)
3(Thin-blade:2)~29(AC・AD 24)
Reels
Reel Diameter (mm)
Φ123
Blades
9 or 11
Bedknife (mm)
3.5(Head 2)
Ground clearance (mm)
STD tire:40 Large tire(Option):57
Standard Accessories
Bucket / Tire / Blade adjustment tool / Height gauge / Plug wrench / Instruction manual / Parts list.
Product line
Model
With Dethatcher / Brush
With Groomer
Blades
9
11
G-EXE22-A9
○
G-EXE22-A11
○
G-EXE22-AC9
○
○
G-EXE22-AC11
○
○
G-EXE22-AD9
○
○
G-EXE22-AD11
○
○
G-EXE26-A9
○
G-EXE26-A11
○
G-EXE26-AC9
○
○
G-EXE26-AC11
○
○
G-EXE26-AD9
○
○
G-EXE26-AD11
○
○