SR525 / SR525HP (38hp/45hp) - Ride-On 5-Gang Reel Fairway Mower -
Overview
Description of Products
Features
Specifications
SR525 / SR525HP

Ride-On 5-Gang Reel Fairway Mower with 38hp/45hp Shibaura Diesel engine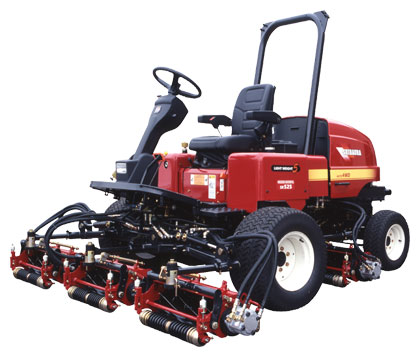 Description of SR525 / SR525HP
Shibaura's innovative, lightweight Fairway Reel Mower ensures superior operational comfort.
It delivers a superior quality of cut for a beautiful finish with easy cutting height adjustment and bedknife set-up.
The 2 rear cutting reels rotate simplifying adjustments and changes to cutting height.
SR525/SR525HP also features 36hp and 45hp low emission Shibaura diesel engine with low noise and vibration levels for enhanced operator comfort.
We offer precision at the lightest weight, satisfying every requirement of golf course professionals.
Features of SR525 / SR525HP
Compact, lightweight and low center of gravity design
36HP 3 cylinder N843L Shibaura diesel engine / SR525
45HP 4 cylinder N844L Shibaura diesel engine / SR525HP
Gear drive 4WD system
Backlapping feature
Individual Hydraulic Switch Valve to backlap the reel blade individually
Reel swing-out system of center reel
Fully open engine hood for easy maintenance and repair
Adjustable seat suspension
Reclining seat
Tilt and telescopic steering wheel
Wide-open visibility for easy operation and safety
Optional Accessories - Roof / Protective Net / Grass Collector / Scraper
Specifications
Model
SR525
SR525HP
Dimensions
Length (mm)
2700
2740
Width
Mowing (mm)
2900
2870
Transport (mm)
2240
2190
Height (mm)
2040(include ROPS)
2010(include ROPS)
Wheele Base (mm)
1510
1600
Tread Width
Front (mm)
1730
Rear (mm)
1045
1130
Ground Clearance (mm)
160
Tires
Front (mm)
24x13.00-12 4PR
Rear (mm)
20x8.00-10 4PR
20x10.00-10 4PR
Weight (kg)
1300
1490
Engine
Model
Shibaura N843L
Shibaura N844L Diesel
Type
Water-cooled, 4 cycle, diesel
Number of Cylinders
3
4
Displacement (cc)
1662
2216
Horsepower (kW(hp)/rpm)
27.9(38)/2850
33.6(45)/2700
Fuel tank Capacity (L)
41
Transmission
Drive
HST - 2WD/4WD
Steering
Hydraulic power Steering
Travelling Range
Forward (No. of Speed)
2
Reverse (No. of Speed)
2
Travelling Speed
Forward (km/h)
L: 0 - 10.0 H: 0 - 17.1
Reverse (km/h)
L: 0 - 7.0 H: 0 - 11.9
Reel Mower
Total width of cut (mm)
2500
Reel Diameter (mm)
178
Number of real
9 Blade - standard (7/11blade -Optional)
9 (7/11blade -Optional)
Height of cut (mm)
7 - 32