----- IHI ozone disinfection system -----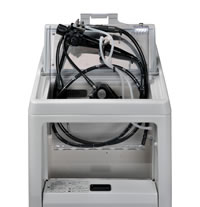 SAFETY
SIMPLICITY
RELIABILITY
IHI Shibaura launched the Environmental Equipment Division in 1994 building on IHI Corporation's developments in Ozone technology.
Ever since its launch of the Japan's first and only Government-approved ozone in-room disinfector in 1996 (Ministry of Health, Labour and Welfare), IHI Shibaura's Environmental Equipment Division has been developing, manufacturing and selling various types of safe, efficacious, fast and cost-effective ozone disinfection devices to provide innovative and comprehensive disinfection solutions for a wide variety of markets.
Currently IHI Shibaura have a wide range of reliable ozone products that are based on advanced technology with more than 15 years of experience in the most hygienic country in the world.
Feel free to contact us by an email if you need more information about our products.