Ozone Air Disinfector eZ-2000 - Ozone Equipment -
Overview
Description of Products
Features
Specifications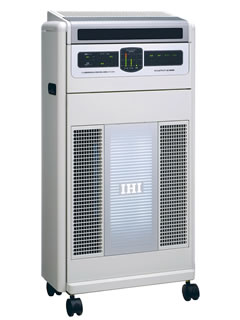 eZ-2000 Ozone Air Disinfector
eZ-2000 is the only ozone air disinfector with double functions of Air Drawing Mode and Ozone Fumigation Mode utilizing the same reliable technology as Japan's first ozone medical device OP-10.
+OP-10 is a Japan's first and only ozone In-Room Disinfector approved by Japanese Ministry of Health, Labour and Welfare as an ozone medical device in 1996.
Description of eZ-2000
Safety during Air Drawing Cycle :
Contaminated air is drawn into the device through Pre-Filters, and disinfected by ozone gas only inside the device, and then built-in ozone converter decomposes ozone gas into pure oxygen before discharging through HEPA filtration. Safety operation without emitting ozone gas into the air.
Keeps the room comfortable and healthy by adding Anions to the disinfected air after the air has passed through High-performance deodorizing filter and Antibacterial hepa filter.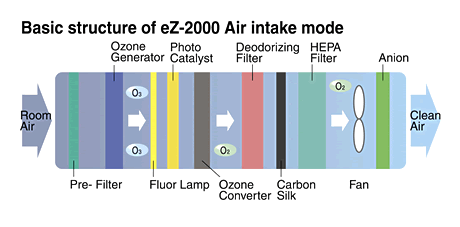 Safety during Ozone Fumigation Cycle :
Generate ozone gas into the empty room to disinfect the entire room with high concentration ozone gas. Not only the room air but also virus-containing airborne droplet on the wall, ceiling or even backside of the equipment can be disinfected.
Built-in ozone converter automatically removes the ozone from the room once the disinfection cycle has been completed.
Safety operation without leaving any ozone residual in the room.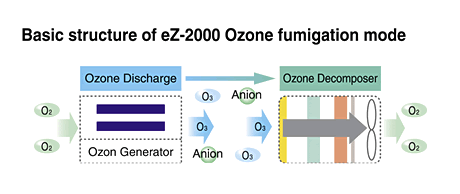 Emergency Airborne Infection Isolation Tent (Option):
Foldable emergency negative pressure isolation tent to prevent transmission of deadly infections at the time of emergency such as a H5N1 Avian influenza / H1N1 Swine influenza pandemic.
High performance HEPA filter and high air flow volume capacity for infection control of a new type of influenza pandemic.
Exhaust the air in the tent into the outside of the tent through Ozone Disinfection Cycle and HEPA filtration with more than 12 times room air exchanges per hour.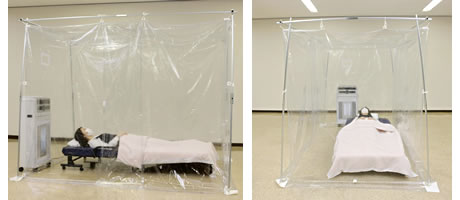 Validation :
eZ-2000 Ozone Fumigation effectiveness against
Influenza virus A, Pseudomonas aeruginosa and Staphylococcus aureus.

Influenza A virus 99.999%
25-27℃ / 55-60%RH level at 3000 CT level (ppm x time)
Performed at Kitasato Research Center of Environmental Sciences

Pseudomonas aeruginosa 99.999%
24℃ / 60%RH level Operation 8h
Performed at Japan Food Research Laboratories

Staphylococcus aureus 99.997%
24℃ / 60%RH level Operation 8h
Performed at Japan Food Research Laboratories
Feature
Reliable Disinfection Performance
Double functions of ozone fumigation mode and air Intake mode. Combined effect of Ozone gas and HEPA filters disinfect the entire room without creating any hazardous by-products.
High Performance Deodorizing Power
Ozone gas + High-performance deodorizing filter + Photo catalyst + Carbon silk are capable of effectively deodorizing the odor in the room.
High Performance Dust Collector
High air flow capability up to 5m3/min increases ventilation and air circulation dramatically, and provide a comfortable clean air for the patient, the operator and the environment.
Efficient and Reliable Technology
Featuring Ozone Generator, Photocatalyst, Antibacterial HEPA Filter, High-performance Deodorizing Filter, Carbon Silk and Anion Generator.
Dust Sensor
Air monitoring system indicates the air contamination levels every 5 minutes.
Automatic Operation
Dust sensor adjust air flow volume automatically according to the contamination status of the room.
Safety Operation
To protect the device from accidental error operation due to a false signal, the main body does not have operation panel. Only one main operator can operate eZ-2000 using integrated wireless controller.
Portability
4 caster wheels allow eZ-2000 to roll from room to room easily as needed.
Creating Comfortable Environment
More than 1000000 pcs/cc of anions create comfortable and healthy air environment in the room.
Easy maintenance
Replacement Notifying Light indicate replacement period of consumable part for your easy maintenance and safety operation.
Economical
Uses only oxygen and electricity to generate ozone gas as the disinfectant. Average operating cost is fairly low.
Specifications
eZ-2000 SPECIFICATIONS
Power voltage
AC100-240V (50/60Hz)
Power consumption
90W
Dimensions
W520×D220×H1010
Weight
33kg
Ozone Generating Capacity
Intake Mode (swift)
15 mg/hr
Fumigation Mode
700 mg/hr
Air Flow Volume / Intake Mode
Quiet mode
1.5 m³/min
Standard mode
2.5 m³/min
Swift mode
5.0 m³/min
Auto
1.5 - 5.0 m³/min
Operating Time / Fumigation Mode
35 min = 15min ozone generation + 20min decompose
2hours = 1hour ozone generation + 1hour decompose
4hours = 2hour ozone generation + 2hour decompose
8hours = 5hour ozone generation + 3hour decompose
Operation Environment
5~35℃ Less than 85%RH
Operating mode
Quiet mode
Standard mode
Swift mode
Auto
Airflow
1.5 m³/min
2.5 m³/min
5.0 m³/min
1.5 ~ 5.0 m³/min
Suitable room square
Less than 75m²
| Operating hours | 35min | 2hours | 4hours | 8hours |
| --- | --- | --- | --- | --- |
| Deodorize (m³) | 10-25 | 25-45 | 45-70 | 70-150 |
| Disinfect (m³) | - | - | 10-45 | 45-90 |

Download PDF file