SX21 / SX24 - Sub-Compact Tractor -
Overview
Description of Products
Features
Specifications
SX21 / SX24
Sub-Compact Tractor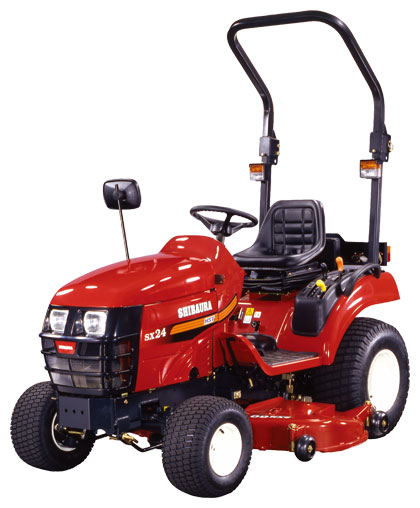 Description of SX21/ SX24
Perfect combination of strength, versatility, and reliability in a compact body offering rider comfort.
All models feature mid and rear PTO as standard equipment.
You can power a variety of implements to handle chores that ordinary lawn and garden tractors can't.
SHIBAURA sub-compact tractors combine ergonomics and comfort to let you work efficiently for doing long hours of hard work.
Compact design gives you smooth operation even in tight spaces with plenty of legroom on the platform.
Powered by SHIBAURA diesel engine model S753/S773, with very low exhaust emissions and low vibration to satisfy every professionals who ride the tractor in a smaller, congested areas.
Horsepower: 21 / 24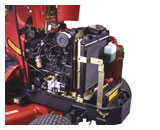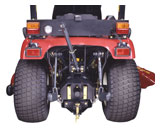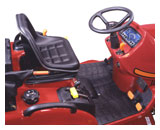 Feature
EASY OPERATION
Simple and well organized instrument panel
The best operator visibility
Plenty of legroom on the open platform.
Wide thresholds make it easy to step aboard from either side, and once you're in the seat, you'll feel right at home.
Differential lock foot pedal allows you to lock both rear wheels together for better traction when required in slippery conditions.
Reliable, fuel-efficient SHIBAURA diesel engines deliver the power you need to shorten mowing time and use a variety of implements.
POWERFUL & VERSATILE PERFORMANCE
High capacity of three-point hitch lift allows you to use various kind of implements.
Hydrostatic transmission allows you to easily change speed and direction with simple foot pedals.
The mid PTO (2185 rpm) & rear PTO (540 rpm) allows you to use mid-mount mower, rear mounted implements, and optional implements.
Four-wheel drive is standard equipment.
Simply use the lever on the left fender to shift from 2WD to FWD when the going gets tough.
EASY MAINTENANCE
Flip-up hood and easy-to-access daily service checkpoints
Easy to remove radiator screen
Dual air filter element
Specifications
TRACTOR MODEL
SX 21
SX 24
Drive
4WD
Transmission Type
HST
ENGINE (DIESEL)
Model
S753
S773
Engine Gross Power (*) [hp/(kW)]
21 (15.7)
24 (17.9 )
No. Of Cylinders
3
Total Displacement [cc]
954
1005
Rated Speed [rpm]
3000
Battery [V-A]
12 - 40
Alternator [A]
40
Fuel tank Capacity [Liter]
29.5
PTO - REAR : Standard, MID : Standard
Rear PTO (at rated E .3000 rpm)
540
Mid PTO (at rated E .3000 rpm )
2185
PTO Selector Lever
3 - Mode ( Mid / Mid & Rear / Rear )
HYDRAULIC
Position Control
Standard
Max.Lifting Capacity (@24 behind LP) (*) [kg]
318
Draft Control
N / A
3- Point Hitch - Category - 1 & Fixed Drawbar
Standard
TRAVELING SYSTEM
Steering
Power Steering
Brake
Wet Disk
STANDARD TIRE SIZE
Bar Type
(F) 18×8.50 - 8V (R) 26×12.00 - 12
Turf Type (Option )
(F) 18×8.50 - 8 (R) 26×12.00 - 12
Agricultural Type (Option )
(F) 4.00 - 9 (R) 7 - 14
TRAVELING SPEED
Forward ( * ) [km/h]
8.1 - 16.6
Reverse ( * ) [km/h]
5.4 - 11.1
DIMENSIONS [mm]
Overall Length (W/3P)
2493
Overall Width (Bar tires)
1175
Overall Height (W/ROPS) (Bar tires)
2288
Wheelbase (Bar tires)
1400
Min.ground clearance (Bar tires)
230
Tread Setting - Front / Rear (Bar tires)
940 / 870
Weight (W/ROPS) (Bar tires) [kg]
694
696