GT161 - Lawn & Garden Tractor -
Overview
Description of Products
Features
Specifications
GT161
Lawn & Garden Tractor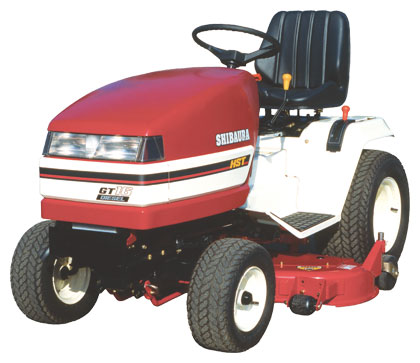 Description of GT161
Power and performance of GT161 SHIBAURA Lawn & Garden Tractor help you create your ideal yard.
You get more performance, more comfort, and more durability than any other Lawn & Garden tractor.
The GT161 is a powerful, quiet, efficient and reliable diesel grass mower with a power of 16 hp.
You can't get any tougher than our GT161.
Features like a Hydrostatic transmission, Cruise control, Power-assisted steering, 10 stage height adjustment, and more.
Mowing is easier than ever.
The GT161 diesel lawn and garden tractor is provided with a 1120mm & 1220 wide mower.
The mower has three blades and has no problems with accuracy or repeatability cutting all grass types.
Powered by SHIBAURA diesel engine model E673.
Horsepower: 16
Feature
PERFORMANCE
Hydrostatic transmission allows you to easily change speed and direction with simple foot pedals.
Provided with a cruise control system, so that the user can lock the required speed.
Power steering system
Tilt handle & adjustable seat ramp for most comfortable position for mowing
SAFETY
Engines start only when the HST pedals are in the neutral, the mower clutch is disengaged, and brake pedal is pressed
Auto engine stop feature to stop the engine automatically when you leave the driver's seat without setting the parking brake
If the safety function is activated, electronic circuit will be disconnected to prevent further battery discharge
MOWER
Easy mower operation with Hydraulic mower lift
Three blade mower cuts various grasses effectively and discharges debris smoothly.
10 stage height adjustment from 25mm to 108mm
Option / snow blowers and blades
Specifications
Model
GT161
Driving System
2-Wheel Drive
Dimensions (mm)
Overall Length
1910
Overall Width
990
Overall Height
1210
Wheel base
1265
Tred (mm) Front
770
Tred (mm) Rear
666 or 713
Min. Ground Crearance (mm)
160
Weight (kg)
382
Engine
Model
E673
Type
Vertical, Water-Cooled 3 cylinder Diesel
Displacement (cm³)
676
Max. Output (kW / (ps) / rpm)
11 / (16) / 3200
Fuel Tank Capacity
16
Starting System
Electric starting with cell starter
Battery
12V. 28 A.H
Tire
Front
16×6.50 - 8
Rear
2.3×10.50 - 12
Chassis
PTO Clutch
Belt Tension
Braking System
Mechanical Disc
Transmission
Hydrostatic
Steering
Power Steering
Min. Turning Radius (mm)
810
Travel Speed Range Forward
Range 1=0~6.6 km/h 2=0~12.8 km/h
Min. ~Max. Reverse
Range 1=0~3.3 km/h 2=0~6.4 km/h
Rear PTO
Option
Mower
Model / Weight
MM44/83 kg or MM48/88 kg
Type
Belt Tension
Cutting Width
MM44:1120mm, MM48:1220mm
Number of Blades
3
Cutting Height
25mm - 108mm
Cutting Height Adjustment
13 stages
Attachment
Fuel Gauge
Attachment to all models
Seat Adjustment
Easy Adjustment seat ramp
Seat Mount
Spring