ST318 / ST321 / ST324 / ST330 / ST333 - Compact Tractor -
Overview
Description of Products
Features
Specifications
ST318 / ST321 / ST324 / ST330 / ST333
Compact Tractor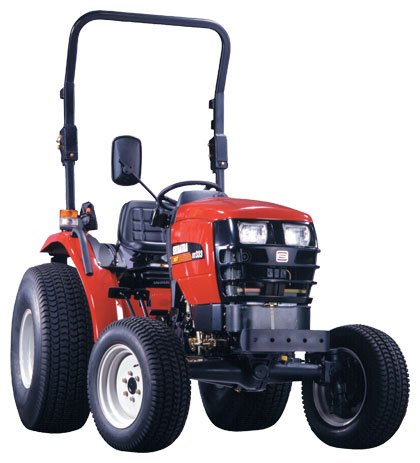 Description of ST318 / ST321 / ST324 / ST330 / ST333
You need a tractor that does more to tackle tough jobs with ease?
That's our ST Series.
Easy operation and toughness to give you the power and reliability you need to get the tough jobs done in a short time.
The comfort and control of SHIBAURA compact tractors will provide the highest level of professional satisfaction in the field.
Powered by SHIBAURA diesel engine model S753/S773/S773L/N843, with very low exhaust emissions and low vibration.
Utilizing new technologies and focusing on our customers needs to satisfy every professionals.
The ST series are designed to accommodate various attachments such as mid mount loader, front loader for use in a wide variety of fields.
Horsepower: 18.5 / 21 / 24 / 30 / 33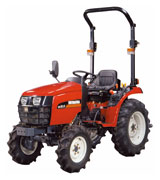 ST318 Agricultural Tire Type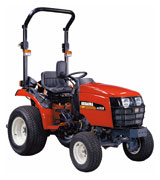 ST318 Turf Tire Type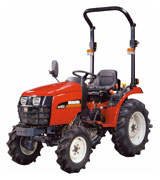 ST321 Agricultural Tire Type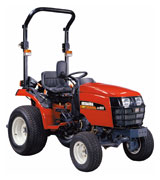 ST321 Turf Tire Type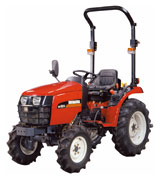 ST324 Agricultural Tire Type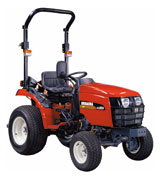 ST324 Turf Tire Type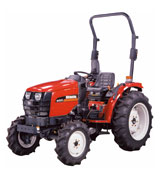 ST330 Agricultural Tire Type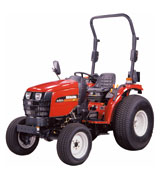 ST330 Turf Tire Type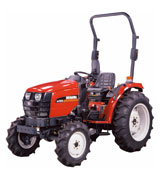 ST333 Agricultural Tire Type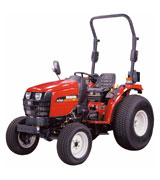 ST333 Turf Tire Type
Feature
EASY OPERATION
Simple and well organized instrument panel
The control knob is located close to fenders for your easy operation
Horizontal moving acceleration lever
Push/Pull 2WD 4WD Switch
Power-assisted steering
Hydrostatic transmission (HST model only)
Electronic cruise control (HST model only)
SAFETY FUNCTION
Safety lock ensure engine will start in PTO & SPEED lever in neutral only.
Two-post foldable ROPS
POWERFUL & VERSATILE PERFORMANCE
Four-wheel drive
Efficient SHIBAURA diesel engine
Category 1 three-point hitch
Single/double acting remote valve (Option)
Hydraulic outlet on the right-hand side of the tractor
Mid/Rear PTO (Option)
Mid-Mount rotary mower (48/60 inch side discharge as option)
EASY MAINTENANCE
Flip-up hood and easy-to-access daily service checkpoints
easy to remove radiator screen
Dual air filter element
Specifications
ST318/321/324
TRACTOR MODEL
ST318
ST321
ST324
Drive
4WD
4WD
4WD
Transmission type
MECH
HST
MECH
HST
MECH
HST
Engine (Diesel)
Model
S753
S773
S773L
Engine gross power*1[hp (kW)]
18.5(13.8)
21(15.7)
24(17.9)
No.of cylinders
3
3
3
Total displacement [cc(cu.in.)]
954(58.2)
1005(61.3)
1131(69.0)
Rated speed r[pm]
2600
2600
2600
Battery [V-A]
12-36
12-36
12-36
Alternator [A]
40
40
40
Fuel tank capacity [liter(Us gal.)]
20(5.3)
20(5.3)
20(5.3)
PTO
Type
Trans w/one way clutch
Live
Trans w/one way clutch
Live
Trans w/one way clutch
Live
Rear PTO power*1 [hp(kW)]
15(11.2)
14
17(12.7)
16(11.9)
19(14.1)
18(13.4)
Rear PTO rated speed(@ 2800 rpm engine rated speed) [rpm]
588
561
588
561
588
561
Mid PTO rated speed (@ 2800 rpm Engine Rated Speed) [rpm]
Opt.(2139)
2040
Opt.(2319)
2040
Opt.(2139)
2040
Hydraulic
Lift control type: Position
Standard
Standard
Standard
Max .Lifting Capacity [kg(lb)]
669(1474)
669(1474)
669(1474)
Draft
NA
NA
NA
3-point hitch Category-1 Fixed Drawbar
Standard
Standard
Standard
Traveling System
Steering
Power Steering
Power Steering
Power Steering
Brake
Wet Disk
Wet Disk
Wet Disk
Clutch
Dry, Single
Dry, Single
Dry, Single
Standard Tire Size
Agricultural
Front
5.0 - 12
6.0 - 12
6.0 - 12
Rear
8.0 - 16
9.5 - 16
9.5 - 16
Turf
Front
20×8.00 - 10
20×8.00 - 10
20×8.00 - 10
Rear
29×12.00 - 15
29×12.00 - 15
29×12.00 - 15
Traveling Speed -Speed range (at rated engine speed)
Forward [km/h(mph)]
9
High & Low (2-range)
9
High & Low (2-range)
9
High & Low (2-range)
First
1.08(0.67)
0~5.78 (0~3.61)
1.15(0.72)
0~5.78 (0~3.61)
1.13(0.71)
0~5.78 (0~3.61)
Second
1.79(1.12)
0~14.86 (0~9.29)
1.91(1.19)
0~14.86 (0~9.29)
1.89(1.17)
0~14.86 (0~9.29)
Third
2.40(1.50)
-
2.56(1.60)
-
2.53(1.57)
-
Fourth
2.57(1.61)
-
2.74(1.71)
-
2.85(1.77)
-
Fifth
4.26(2.67)
-
4.54(2.84)
-
4.74(2.94)
-
Sixth
5.72(3.58)
-
6.10(3.81)
-
6.36(3.95)
-
Seventh
6.72(4.20)
-
7.16(4.48)
-
7.16(4.48)
-
Eighth
11.15(6.97)
-
11.89(7.43)
-
11.89(7.43)
-
Ninth
14.96(9.35)
-
15.95(9.97)
-
15.95(9.97)
-
Reverse [km/h(mph)]
3
High & Low (2-range)
3
High & Low (2-range)
3
High & Low (2-range)
First
1.99(1.23)
0~3.85 (0~2.40)
2.13(1.33)
0~4.08 (0~2.55)
2.11(1.31)
0~4.08 (0~2.55)
Second
4.77(2.98)
0~9.91 (0~6.19)
5.08(3.18)
0~10.50 (0~6.56)
5.30(3.29)
0~10.50 (0~6.56)
Third
12.47(7.79)
-
13.29(8.25)
-
13.29(8.25)
-
Dimensions [mm(in)]
Overall length (w/3p)
2728(107.4)
2728(107.4)
2728(107.4)
Overall width (Std.tread, w/Ag, tires)
1042(41.0)
1138(44.8)
1138(44.8)
Overall height (w/Ag.tires ROPS)
2262(89.1)
2287(90.0)
2287(90.0)
Wheelbase
1045 (55.3)
1045 (55.3)
1045 (55.3)
Min.ground clearance (w/Ag.tires, Drawbar)
245 (9.6)
270 (10.6)
270 (10.6)
Tread
Front (w/Ag. Tires Std )
822 (32.4)
848 (33.4 )
848 (33.4 )
Rear ( w/Ag. Tires Std )
851 (33.5)
897 (35.3 )
897 (35.3 )
Weight(w/Ag.tires ROPS) [kg (lb)]
742 (1636)
754(1662)
744(1640)
756(1666)
750(1653)
762(1680)
ST330/333
TRACTOR MODEL
ST330
ST333
Drive
4WD
4WD
Transmission type
MECH
HST
MECH
HST
Engine (Diesel)
Model
N843
N843
Engine gross power*1[hp (kW)]
30.0 (22.4)
33.0 (24.6)
No.of cylinders
3
3
Total displacement [cc(cu.in.)]
1496 (91.2)
1496 (91.2)
Rated speed r[pm]
2800
2800
Battery [V-A]
12-55
12-55
Alternator [A]
40
40
Fuel tank capacity [litre(Us gal.)]
29.5 (7.8)
29.5 (7.8)
PTO
Type
Trans w/one way clutch
Live
Trans w/one way clutch
Live
Rear PTO power*1 [hp(kW)]
23.7 (17.7)
23.1 (17.2)
26.0 (19.4)
25.5 (19.0)
Rear PTO rated speed(@ 2800 rpm engine rated speed) [rpm]
616
605
616
605
Mid PTO rated speed (@ 2800 rpm Engine Rated Speed) [rpm]
Opt. (2356)
2314
Opt.(2356)
2314
Hydraulic
Lift control type: Position
Standard
Standard
Max .Lifting Capacity [kg(lb)]
873(1921)
873(1921)
Draft
Option
Option
3-point hitch Category-1 Fixed Drawbar
Standard
Standard
Traveling System
Steering
Power steering
Power steering
Brake
Wet Disk
Wet Disc
Clutch
Dry, Single
Dry, Single
Standard Tire Size
Agricultural
Front
7 - 14
7 - 14
Rear
11.2 - 24
11.2 - 24
Turf
Front
25×8.50 - 14
25×8.50 - 14
Rear
13.6 - 16
13.6 - 1.6
Traveling Speed -Speed range (at rated engine speed)
Forward [km/h(mph)]
9
High/Middle/Low
9
High/Middle/Low
First
1.25 (0.78)
0~60.1 (3.73)
1.25 (0.78)
0~6.01 (3.73)
Second
1.85 (1.15)
0-12.48 (7.76)
1.85 (1.15)
0-12.48 (7.76)
Third
2.65 (1.65)
0~25.45 (15.82)
2.65 (1.65)
0~25.45 (15.82)
Fourth
3.95 (2.46)
-
3.95 (2.46)
-
Fifth
5.84 (3.63)
-
5.84 (3.63)
-
Sixth
8.37 (5.20)
-
8.37 (5.20)
-
Seventh
10.12 (6.29)
-
10.12 (6.29)
-
Eighth
14.93 (9.28)
-
14.93 (9.28)
-
Ninth
21.43 (13.31)
-
21.43 (13.31)
-
Reverse [km/h(mph)]
3
High/Middle/Low
3
High/Middle/Low
First
1.85 (1.15)
0-4.21 (2.61)
1.85 (1.15)
0-4.21 (2.61)
Second
5.84 (3.63)
0~8.74 (0~5.43)
5.84 (3.63)
0~8.74 (0~5.43)
Third
14.93 (9.28)
0-17.82 (11.07)
14.93 (9.28)
0-17.82 (11.07)
Dimensions [mm(in)]
Overall length (w/3p)
2830 (111.3)
2830 (111.3)
Overall width
(Std.tread, w/Ag, tires)
1620 (63.8)
1620 (63.8)
(Turf tire : 1522 (59.9))
Overall height
(w/Ag.tires ROPS)
2490 (98.1)
2490 (98.1)
Wheelbase
1600 (63.0)
1600 (63.0)
Tread
Front (w/Ag. Tires Std )
1101 (43.3)
1101 (43.3)
Rear ( w/Ag. Tires Std )
1345 (52.9)
1345 (52.9)
Weight(w/Ag.tires ROPS)
[kg (lb)]
1115 (2461)
1125 (2483)
1115 (2461)
(Turf tire : 1099(2418))
1125 (2483)