Ozone Air Disinfector eZ-100 - Ozone Equipment -
Overview
Description of Products
Features
Specifications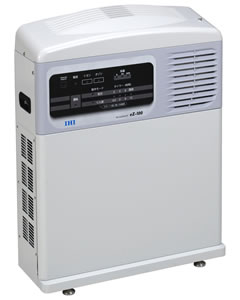 Ozone Air Disinfector eZ-100
Ozone Air Disinfector eZ-100 with double functions of Air Drawing Mode and Ozone Fumigation Mode.
Description of eZ-100
New compact and high performance Ozone Air Disinfector with double functions of Air Drawing Mode and Ozone Fumigation Mode to protect yourself against infectious diseases.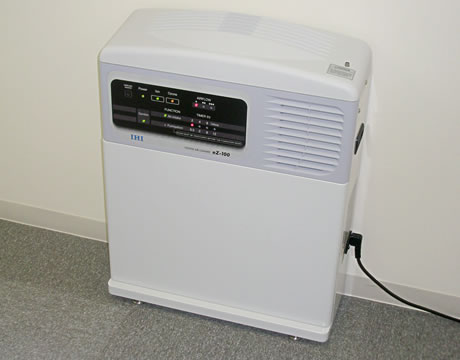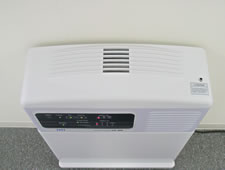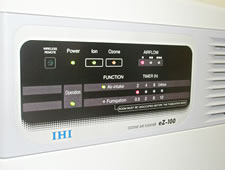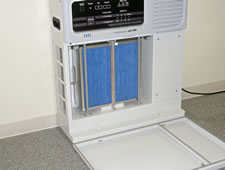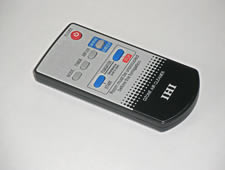 Safety during Air Drawing Cycle :
Contaminated air is drawn into the eZ-100 through Pre-Filter and Anti-bacterial HEPA filter and is then disinfected by ozone gas only inside the device. The device inactivates viruses trapped by the HEPA filter by using ozone gas only inside the device and then built-in ozone converter decomposes ozone gas into pure oxygen before being outputted again. Safety operation without emitting ozone gas into the air.
Keeps the room comfortable and healthy by adding Anions to the disinfected air.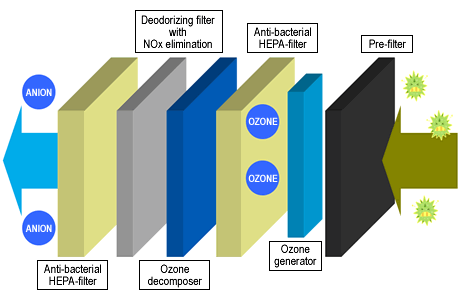 Safety during Ozone Fumigation Cycle :
This is designed for when nobody is present as it enables more thorough disinfection, penetrating throughout the room. Generate ozone gas into the empty room to disinfect the entire room with high concentration ozone gas. Not only the room air but also virus-containing airborne droplet on the wall, ceiling or even backside of the equipment can be disinfected.
Built-in ozone converter automatically removes the ozone from the room once the disinfection cycle has been completed. Safety operation without creating any hazardous by-products.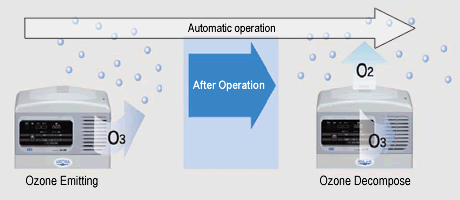 Effectiveness of Ozone against Influenza A virus :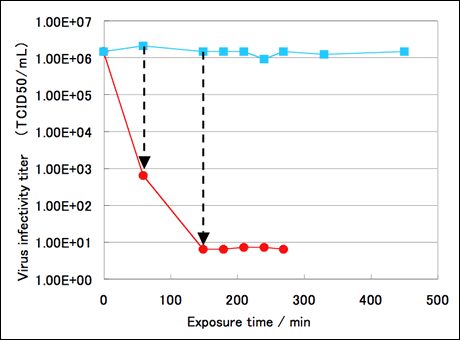 Test Virus : Influenza A virus
Virus titer : 4.5E+08 TCID50/mL
Agent : Ozone gas (20ppm),
Humidity 60%-65%,
Temperature 25℃
Operation time : 0, 60, 150, 180, 210, 240, 270 minutes
Test method : According to IHI Shibaura Machinery Corporation instructions
Effectiveness test of ozone gas against Influenza A Viruses have been performed at Kitasato Research Center under the direction of IHI Shibaura Machinery Corporation on May 19, 2009.
IHI ozone disinfection system inactivates and eliminates the airborne Influenza A Viruses greater than 99.99% at an ozone concentration of approximately 3000 CT level.
Conducted by : Kitasato Research Center of Environmental Sciences
Feature
Reliable Disinfection Performance
Double functions of Air Drawing Mode and Ozone Fumigation Mode. Combined effect of Ozone and Anti-bacterial Double HEPA filters disinfect the entire room without creating any hazardous by-products.
Effective Filter Combination
Pre-filter + Ozone discharge + HEPA filter + Ozone decompose filter + Deodorizing filter with NOx elimination + HEPA filter capable of effectively disinfecting the entire room.
High Performance Dust Collector
High air flow capability up to 3m3/min increases ventilation and air circulation, and provide a comfortable clean air for everyone.
Safety Operation
To protect the device from accidental error operation due to a false signal, the main body does not have operation panel. Only one main operator can operate eZ-100 using integrated wireless controller.
Easy maintenance
Replacement Notifying Light indicate replacement period of consumable part for your easy maintenance and safety operation.
Easy replacement of filters without using any tools.
Maintenance-free closed type ozonizer.
Specifications
Ozone generation
Intake mg/h
15
Fumigation mg/h
600
PPM
350
Ion
1000000 pcs/cc
Flow volume
Intake m3/min Quiet mode
1.0m3/min
Intake m3/min Standard mode
2.0m3/min
Intake m3/min Swift mode
3.0m3/min
Fumigation (Decompose)
3.0m3/min
Filter
HEPA filter + Deodorizing filter + Ozone decompose filter
HEPA filter
Anti-bacterial HEPA filter with capable of trap more than 99.97% of 0.3μm particles x 2 pcs
Ozone decompose filter
4 pcs
Deodorizing filter
Deodorizing filter with NOx elimination function
Replacement Notifying Light
Replacement Notifying Light notify you the period of maintenance, 8760hours of intake operation or 500hours of fumigation operation, whichever comes first.
Noise
Quiet mode 36dBA
Standard mode 43dBA
Swift mode 58dBA
Weight
17kg
Dimensions
W500 x D183 x H650
Power
AC100-240V
Power consumptioon
Fumigation mode 60W
Air-Intake mode 45W