Ozone In-Room Disinfector OP-10 - Ozone Equipment -
Overview
Description of Products
Features
Specifications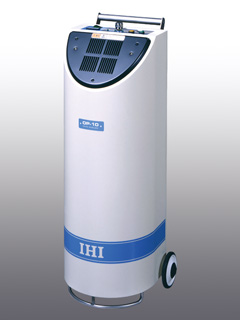 Ozone In-Room Disinfector OP-10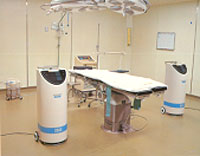 Description of OP-10
Generate ozone gas into the empty chamber to disinfect the entire room with high concentration ozone gas, then automatically decompose ozone gas using built-in ozone decompose units after the ozone generation phase.
Just a single touch of start button to start fully automatic operation from the Ozone Gas Generation Phase to Ozone Gas Decomposition Phase with computerized control, and operating status can be monitored using remote-control unit to confirm the operation level from the outside of the room.
3 range of user selectable operating modes in response to the extension of the room.
Circulation fan of OP-10 and diffusivity of ozone gas provide you uniform disinfecting power to the every corner of the room, even backside/underneath of the equipment, inside of the pocket can be disinfected.
Built-in Ozone decompose units easily accelerate decomposition cycle, so you do not need any post-cleaning.
Simple and Safety method without the harmful side effects to human body, as there are no residuals not like other chemical substances (Formalin, Ethylene oxide gas).
*In the event that the Ozone censor detects the residual ozone exceeding 0.1ppm after the end of decompose procedure, it will continue decompose procedure until less than 0.1ppm residual ozone in the room can be detected.
The cost to operate OP-10 is fairly low.
You only need air and electricity to operate OP-10.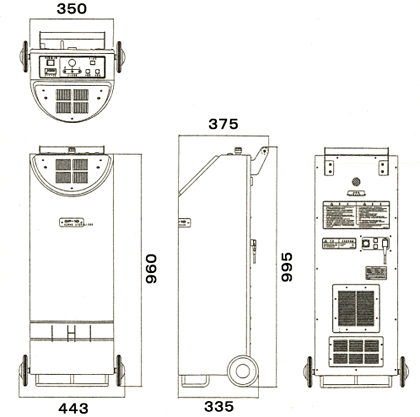 Feature
High concentration ozone generator
Full-automatic operation
Ozone leak surveillance system
Built-in ozone decomposer
Operating status monitor
10Ax1(thermal cutout) fuse + 5Ax2 fuse
Caster wheels for easy portability
Safeguards function
OPERATION MODE
MODE1..........9h (Generation 6h/Decomposition 3h)
MODE2..........12h (Generation 9h/Decomposition 3h)
MODE3..........15h (Generation 12h/Decomposition 3h)
Recommended Room measure
30-45m³..........MODE1 9hrs
45-55m³..........MODE2 12hrs
55-70m³..........MODE3 15hrs
Specifications
Name :OP-10
Ozone Generating Capacity :800mg/hour
Weight :33kg
Dimensions :W350xD375xH995mm
Power Source :AC100V / 50/60Hz
Power Consumption :220VA
Ozone gas flow volume : 5N1/min
Circular fan airflow : 1.5m³/min.
OPERATION MODE
MODE1..........9h (Generation 6h/Decomposition 3h)
MODE2..........12h (Generation 9h/Decomposition 3h)
MODE3..........15h (Generation 12h/Decomposition 3h)
Recommended Room measure
30-45m³..........MODE1 9hrs
45-55m³..........MODE2 12hrs
55-70m³..........MODE3 15hrs
Replacement
Filter & Ozone decompose catalyzer
every One (1) year or 1,000hours whichever shorter