Ozone & UV Disinfector OUD-1 - Ozone Equipment -
Overview
Description of Products
Features
Specifications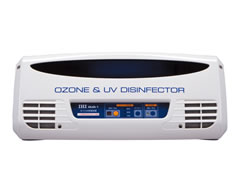 Ozone & UV Disinfector OUD-1
Description of OUD-1
Protection for crew members and patients.
The vehicle air disinfector applied with Ozone gas and UV irradiation.
Air intake mode to disinfect the air in the vehicle by using UV lamp and light oxidation catalyst. (EASY DISINFECTION WHILE DRIVING)
Fumigation mode to disinfect vehicle's every corner with ozone gas. (UNOCCUPIED CAR/TRANSPORTER USE ONLY)
In-hospital infection problem is growing steadily due to an increase in the number of deaths caused by infection in hospitals, ambulances, and other medical facilities.
Traditional cleaning and disinfection practices have little effect in removing bacterial contamination in ambulances, leaving crews and patients potentially at risk from deadly superbugs and potentially transporting infection into hospitals.
Our OUD-1 will help you to find a solution to above infection problem in medical transport vehicles to protect crew members and patients against deadly On Their Way-Acquired infection.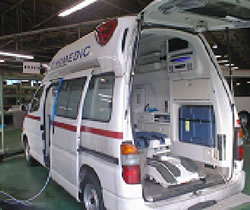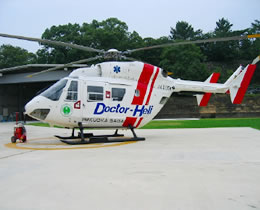 Feature
Simple operation
Portable, lightweight, compact design
Shock and vibration resistance
Ozone fumigation mode
UV disinfection mode
Safety function
Beep and LED light to notify the fumigation operation
Automatic power off when removing front panel
Power fuse 10A
3 range of user selectable operating fumigation modes
Mode 1 : 15 minutes
Mode 2 : 30 minutes
Mode 3 : 60 minutes
Specifications
Name : OUD-1
Ozone Generating Capacity : 400mg/hour
Weight : 5kg
Dimensions : W520xD220xH85mm
Power Source : AC100V or DC12V
Power Consumption : 30-35W
Fumigation mode
Mode 1 : 15 minutes
Mode 2 : 30 minutes
Mode 3 : 60 minutes
Recommended Maintenance Period
Cleaning
・UV lamp..................................Once-per-month
・Pre-filter...................................Once-per-month
・Ozone Gas Generator................Once-per-month
Replacement
・UV lamp..................................Every 3 year
・Pre-filter...................................Every 6 months
・Ozone Gas Generator...............Every 1 year

Download PDF file (2.2MB)