G-FLOW22 - Walk-Behind Greens Mower -
Overview
Description of Products
Features
Specifications
G-FLOW22 Walk-Behind Greens Mower
Shibaura's new concept greens mower with Offset Moving System + Floating Head.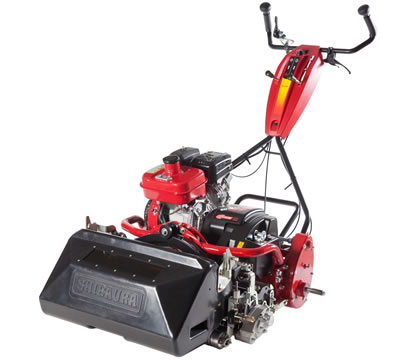 Description of G-FLOW22
G-FLOW sets a new benchmark for precision walk behind reel mowers. The brief to our engineers "no scalping ever" on undulating greens. Building on Shibuara's innovative G-EXE model features, G-FLOW'S cutting unit fulcrum point is located in the centre of the reel enabling a stable mower platform for unrivalled performance on undulations. By providing better swing angles in both forward and side to side G-FLOW gives the best contour following capability in the industry. Beautifully defined stripe patterns can be easily achieved with G-FLOW.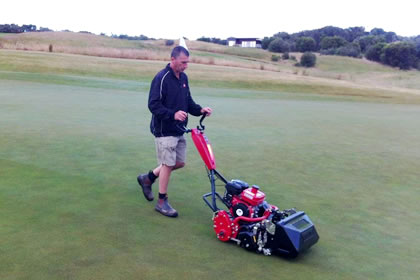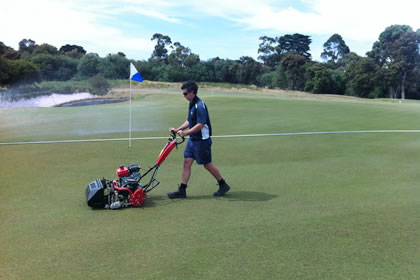 Feature of G-FLOW22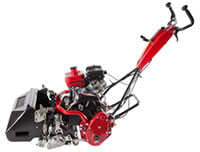 Lightest weight of 96kg for easy maneuverability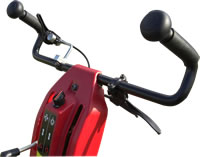 Exclusive Spinning ball grips for easy and quick turn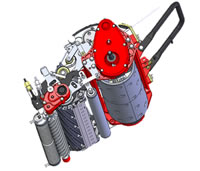 Patented Floating Head mechanism provides superb contour following ability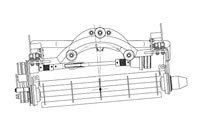 Ideal cylinder supporting point allows you to keep straight lines even on heavily undulated greens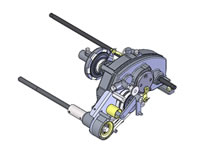 Exclusive easy shift of traveling speed to change clip frequency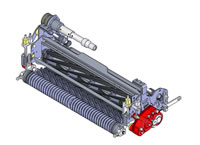 Patented quick reel unit release for easy maintenance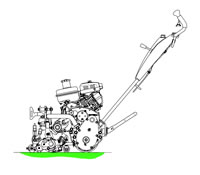 Shortest distance between reel and rear roller to avoid scalping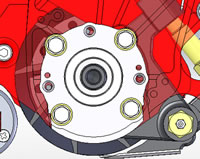 Ideal bedknife position adjustment by Offset Moving System
Specifications
Model
G-FLOW22
Dimensions&Weight
Length (mm)
1150
Width (mm)
970
Hieght (mm)
1100
Weight (kg)
STD 96
w/o tires, grass catcher
Engine
Type
SUBARU EX13D
Air-cooled 4 cycle OHC gasoline
Displacement (L)
126.0
Horsepower [kW (PS) / rpm]
3.2 (4.5) / 4000
Fuel tank Capacity (L)
2.7
Capacity
Mowing speed (km/h)
L=4.3 / H=5.5 (3000rpm)
Width-of-cut (mm)
557
Capacity (m2/h)
2100-3400
Height-of-cut (mm)
2-30
Reel Unit
Reel diameter (mm)
φ123
Blades
11
Bedknife (mm)
Tournament 2.5 (Hi-carbon steel)
F.roller diameter (mm)
60
F.roller width (mm)
584
R.roller diameter (mm)
50.8
R.roller width (mm)
585
R.roller to reel (mm)
118
F.roller to R.roller (mm)
207.5
Off-set settings (mm)
4/6(STD)/8
MODEL
Attachment
G-FLOW22-A11STE
Grooming Roller (wide groove) - A
G-FLOW22-AC11STE
A + Brush
Gear Box
G-FLOW22-AD11STE
A + Grooming Cutter (wide space)
Gear Box
| STANDARD for STE model | OPTION for all models (STE, TNE, DTE) |
| --- | --- |
| Grass Catcher | Large Tyre KIT |
| Small Tyre KIT | Light KIT |
| Hi-carbon Bedknife (2.5mm) | High Quality Cut KIT |