GM222 - Walk-Behind Greens Mower -
Overview
Description of Products
Features
Specifications
GM222
Walk-Behind Greens Mower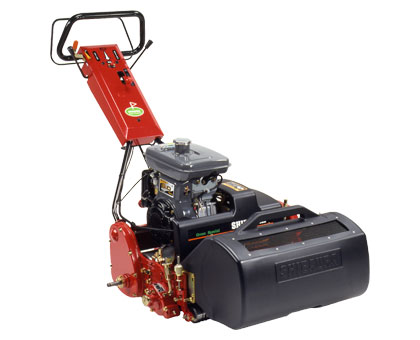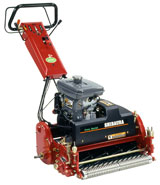 Description of GM222
IHI Shibaura GM222 Walk-Behind Greens Mower delivers precision cutting to tournament standards.
The machine is designed and engineered to meet every requirement of professionals.
The Shibaura GM222 follows undulations in the ground without damaging the green, and its 9 or 11 blade reel provides a precise and high quality cutting finish.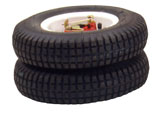 Transportation Tire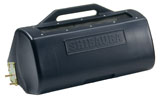 Grass Collector
Feature
Comfortable Control - Precise weight balance provides comfortable control and ensures smooth turning.
Cutting Blade Clutch Lever - Easy to reach clutch control for operator safety.
Engine Stop Switch - Double engine stop switches on both the control panel and engine side for operator safety.
Blade Options - 9 or 11 blade cylinders for optimum cutting quality to suit a wide variety of terrain.
Brush - Both forward and reverse rotation of the brush for superior turf quality.
Rear Roller and Reel Blade - High durable gear drive system.
Blade Maintenance - Easy replacement and adjustment of cutting blade without removing tires.
Belt Maintenance - Easy Belt Replacement - The belt between the engine and transmission can be easily replaced without removing the engine.
Specifications
Model
GM222E
Dimensions
Length (mm)
1120
Width (mm)
870
Height (mm)
1200
Dry Weight (kg)
98.0
Engine
Model
Robin, EH17-2B
Type
Air-cooled 4-cycle Gasoline Engine
Displacement (cc)
172
Horsepower [kw(hp)/rpm]
4.4 (6.0)/2000
Fuel Tank capacity (L)
3.6
Starter
Recoil Starter
Mowing Speed (km/h)
5.2
Traveling Speed (km/h)
8.2 w/transport wheels
Cutting Width (mm)
557
Cutting Height (mm)
22.2
Reel Mower
Reel Diameter & Width (mm)
123 x 557
Number of Reel
11
Bed Knife (mm)
3.5
Attachment
Grooming
Standard Equipment
Bucket
Option
2.5mm Bed knife, Grooming Roller, Grooved Roller & Smooth Roller